Company History
Foothill Air Conditioning and Heating was founded by Robert Davies in 1977. After working as a Foreman for 15 years, Robert decided to start his own business. Over the years, Foothill Air Conditioning has grown and currently operates out of a 10,000 square foot building, which includes a service department and manufacturing facility.
Robert Davies moved Foothill Air Conditioning to their current Los Gatos location in 1980 because he wanted to continue to support and grow a business in the city where he lived. Mr. Davies has always been very active in the community, and became president of the Los Gatos Lions Club in 1996.
Robert's son, Steve Davies joined the company in 1995 after earning his engineering degree from Cal Poly and obtaining his professional engineering license. He spent five years gaining experience with another company before joining his father at Foothill. Foothill Air Conditioning and Heating has built its reputation on Customer Satisfaction. Whether the project is fast track tenant improvements, "High Tech" R & D Office space, Institutional Facility or Retail Space, Foothill is uniquely qualified to provide the design expertise and installation to meet it's customer's needs.
With registered engineers on staff, as well as computer aided calculations, Foothill Air Conditioning offers complete design-build services for its customers. Having a service department has allowed Foothill Air Conditioning to provide its customers with not only a complete project, but also a follow through that ensures the customer is satisfied for years to come. By maintaining flexibility, and not specializing in one type of construction, Foothill has been able to adjust to the changing market place while meeting its customers changing needs.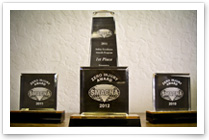 Zero Injury Award 2010, 2011, 2012 from the Sheet Metal and Air Conditioning Contractors' National Association, an international trade association representing 4500 contributing contractor firms, that promotes quality and excellence in the sheet metal and air conditioning trades.