In 1977, after 15 years as a foreman, Robert Davies founded Foothill Air Conditioning and Heating. As an active member of the Los Gatos community, Bob Davies choose to keep his business local. In 1980, he moved the business to its current location. Foothill Air Conditioning and Heating now occupies a 10,000 square foot building that includes a full service department and manufacturing facility.
After earning his engineering degree from Cal Poly, obtaining his professional engineering license and gaining valuable experience with another Bay Area company Robert's son Steve joined the business. Together they have continued to expand the business with a reputation built on customer satisfaction. Whether the project is fast track tenant improvements, high tech R&D office space, institutional facilities or retail space, Foothill is uniquely qualified to provide the design expertise, top notch engineering and installation to meet its customer's needs.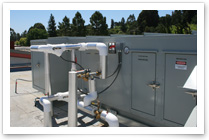 Foothill Air Conditioning is uniquely qualified to provide the design expertise and installation to meet your needs. Foothill Air Conditioning's ability to work with our customers and identify their specific requirements sets us apart from the competition and provides our customers with the design that will meet our customers' needs now and in the future.

Mt Pleasant High school modernization: Project consisted of remodeling 5 buildings at the Mt Pleasant High School in the East Side School District. We provided Architectural flashing as well as new HVAC to over 60 classrooms. Foothill Air Conditioning provided the controls and the project was commissioned.
Sacred Heart School: Project consisted of 4 new buildings with a mixture of package units and Daikin Variable Refrigerant Systems. This was a private project with a complex Energy Management system, LEED requirements and Commissioning.